This week, scooters surpass docked bikes in popularity, fewer teens are getting a driver's license, and ridership is way up in Seattle, but first…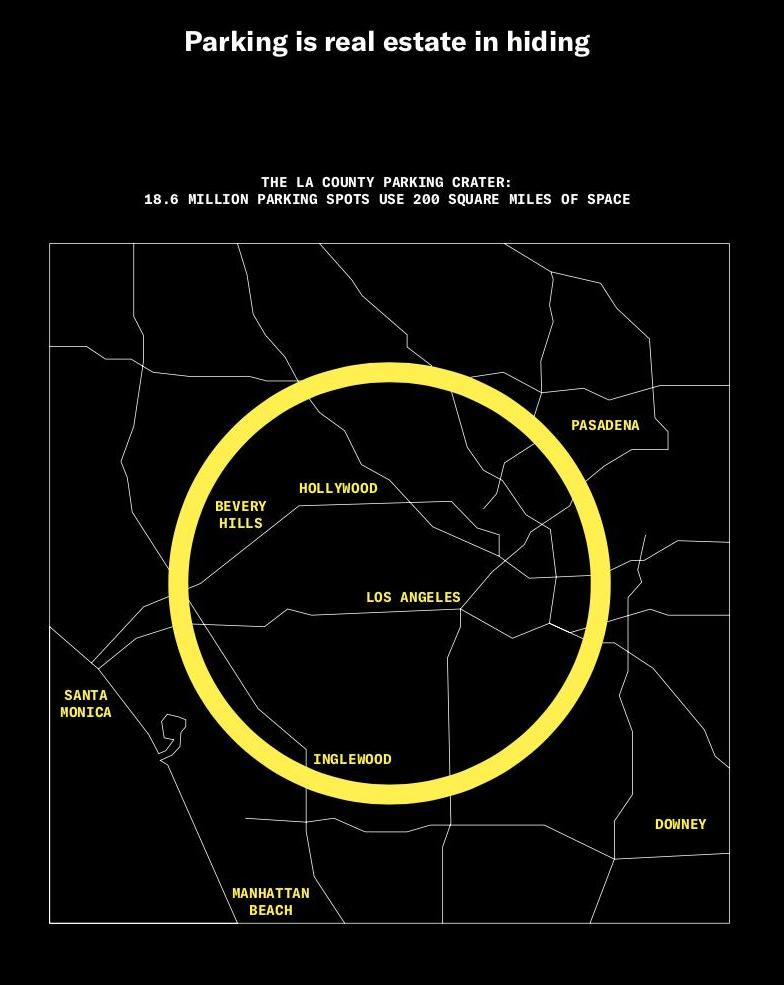 Paved Pasadena, Put Up a Parking Lot
Congestion. Pollution. Emissions. Cars in motion are the source of many modern problems. But even when cars aren't doing anything other than sitting parked (which is how the typical automobile spends more than 90 percent of its time), they still cost cities space.
In L.A. County, there are a staggering 18.6 million parking spots occupying 200 square miles of land in total. That's more than 4.5 parking spots per person, spread over an area larger than the European principality of Andorra.
How much is that real estate worth? At an average price of $2.6 million per acre, the value of L.A.'s parking crater nets out at $332.8 billion. While some of those spots belong to privately owned lots and garages, many of them are located on public streets. In other words, L.A. offers automakers billions in subsidies to store their products in the public right of way.
L.A. isn't alone, either. According to a recent study, there are 1.6 million parking spots in Seattle, 1.9 million in New York City, and over 2 million in Philadelphia; another report calculated that 50% of land in European cities is dedicated to infrastructure for cars.
Once you realize that parking is real estate in hiding, scooter clutter suddenly doesn't seem like the biggest crisis in how we store our vehicles.
How much space does your city devote to parking? Tell us on Twitter.
---
Meet Us in Berlin
Newsflash: Early Bird passes for Micromobility Europe are going fast. We're talking moped on an open road, not pedal bike at rush hour.
We strongly recommend you book your ticket ASAP to lock in the lowest price. At €395, or more than half off General Admission, Early Bird is the best deal that will be offered and there aren't many left.
---
Airwaves
On a new episode of the podcast, Horace Dediu and Oliver Bruce crunch hundreds of pages worth of numbers from Uber's S-1 filing and explain what it all means for micromobility. Listen here.
---
What to Know This Week
---
Stay Connected
Want more? Be sure to follow us and check out our website for all the latest news and announcements.