This week, a major Chinese ebike player IPOs, Lyft eyes Europe, and U.S. leaders push for helmet laws, but first…
---
What Are You Doing Thursday?
Last call to register for Twilio and Lime's webinar focusing on the challenges and strategies for scaling a micromobility company.
In September Lime became the first scooter provider to hit 100 million rides. In this webinar, the company's tech lead manager, Dr. Mu Qiao, will share how they overcame their biggest connectivity challenges to rapidly deploy service in more than 120 cities all over the world.
The 30-minute webinar and Q&A will take place this Thursday, November 14, at 10AM PST (1PM EST). Don't miss out.
---
The Smartphone on Wheels
"If 'micro' means urban and 'mobility' means freedom, then micromobility is urban freedom. I believe that is what customers are buying," Horace Dediu
Last month at Micromobility Europe, Horace Dediu delivered his most sweeping manifesto yet on the future of urban mobility. For those who weren't able to attend, we are pleased to make a video of the presentation, "The Smartphone on Wheels," publicly available for the first time.
In just under 30 minutes, Horace revisits the micromobility definition, places LEV adoption within the context of other transformative technologies, demonstrates why cities cannot physically contain enough cars to keep up with urbanization, and more.
Watch more insightful speeches from the Berlin event—including rapid-fire Pecha Kuchas by leaders from Acton, Superpedestrian, Bond Mobility, Donkey Republic, VanMoof, and Toyota Tsusho—on our YouTube channel.
We will be releasing additional videos from Micromobility Europe all week. Follow us on LinkedIn and Twitter to get alerts when new ones are published.
---
Addressing the +1,100-Pound Trike in the Room
As a corollary to Horace's point above, "micro" doesn't always have to mean small.
In the latest episode of the podcast, Oliver Bruce speaks with Mark Frohnmayer, CEO of Arcimoto, about his company's more than 1,100-pound cabined LEV, manufacturing in the U.S., and the potential for long-distance modals at the heavier end of the micromobility spectrum.
Listen here.
---
What You Need to Know This Week
Leading off, Uber has appealed Los Angeles's decision to suspend its permit to rent ebikes and scooters. L.A. temporarily revoked Uber's permit last month "after months of tension and failed attempts at compromise over a new data-sharing rule." In a nutshell, the ride-hailing company argues that, if it followed protocol and handed over real-time trip data to the city transit authority, user privacy could be at risk.

Uber's micromobility subsidiary, Jump, will be allowed to keep operating until the hearing concludes. A date for the hearing has not yet been set, but for reasons that are not yet totally clear, it will be conducted by the Department of Cannabis Regulation. Stay tuned. | L.A. Times
European micromobility provider Voi raised $85 million in a Series B round, bringing its total new funding to $136 million. The Swedish company is currently operational in 38 cities across 10 countries. | Bloomberg
Related: Voi CEO Fredrik Hjelm met with British transport officials to discuss modifying the country's ban on public-use scooters. His conclusion was that change was unlikely to occur before Brexit. | BBC
Segway introduced its first electric dirt bike, which will be available to purchase in early 2020. | TechCrunch
Lyft reportedly approached London regulators this summer to try to broker an agreement for its users to get access to the city's bike-share scheme, Santander Cycles. The deal did not move forward, but if it had, it would have represented a major strategic pivot for Lyft, which until now has focused almost exclusively on the U.S. and Canada. (In case you are wondering, yes, Lyft-owned Motivate does have business with Santander Cycles. Its subsidiary, 8D Technologies, provides point-of-sale products to the London system.) | Bloomberg
In other Lyft news, its dockless ebike program in San Francisco, Bay Wheels, is coming back. This July the ride-hailing company was forced to suspend operations due to safety concerns after several of its batteries caught fire. Now Lyft says the battery issue has been resolved and it will deploy 4,000 ebikes between December and April. (As for Uber, it will be allowed to continue operating its fleet of about 500 free-floating ebikes in San Francisco until at least March 1, when its permit expires.) | Chronicle
About half (49 percent) of the nearly 2.7 million shared micromobility trips that were taken in Santa Monica between October 2018 and September 2019 replaced trips that would have otherwise been made by car. | Santa Monica
Crowdsourced public transit app Pigeon is now available in five more U.S. cities: San Francisco, Boston, Chicago, Los Angeles, and Washington, D.C. | TechCrunch
Swedish hardware startup Velove raised $1.1 million in seed funding for its last-mile delivery solution. | Velove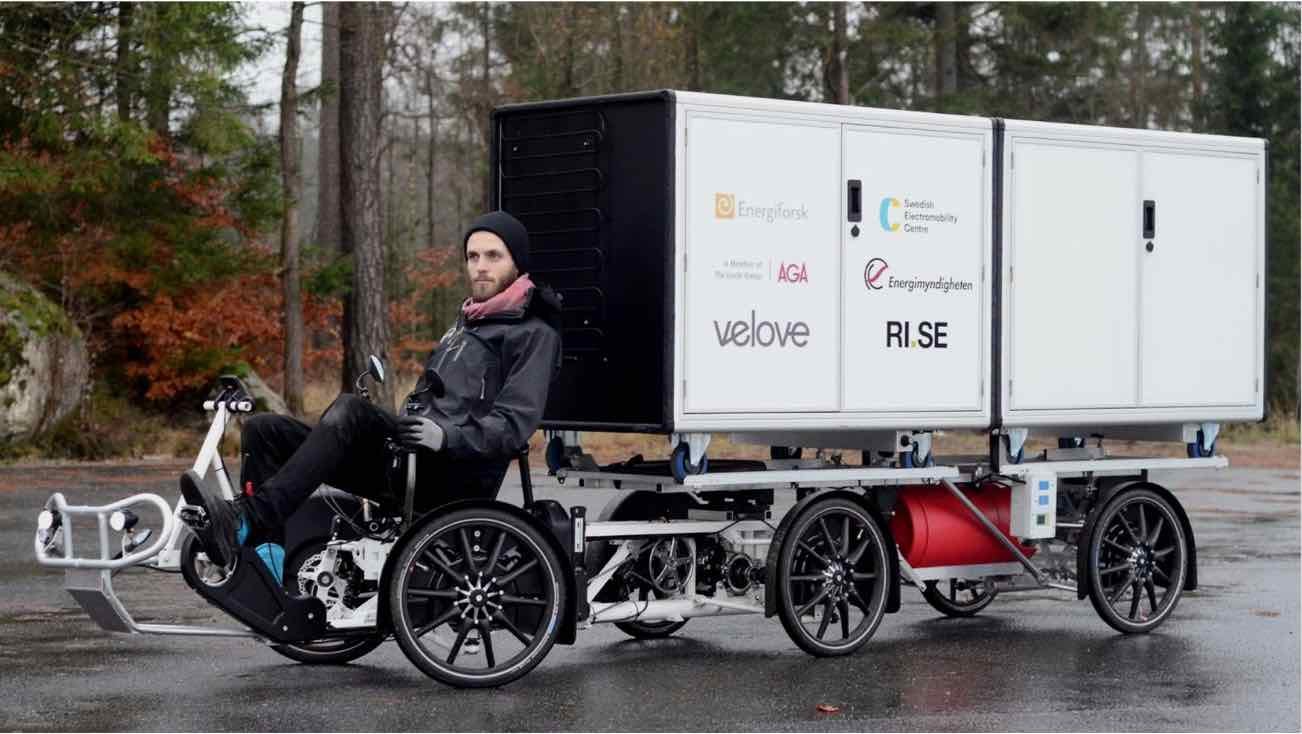 Here's an interesting question of "would you rather." Lyft-owned Minneapolis bike-share system Nice Ride is considering scrapping its dockless pedal bikes and replacing them with station-based ebikes. | Bring Me the News
Lime is running its first U.S. ad campaign in Los Angeles with the message that scooters can help ease congestion. | CNBC
Delivery workers in Singapore are protesting a ban against riding scooters on footpaths. The government has offered workers who use a scooter for their job a $735 turn-in grant for their vehicle, but many are not satisfied with the offer. "'A lot of the (people) here ... they have children to pay for, instalments [sic] to pay for, they have house to pay for. Some of them don't even have a house, they have to rent,' said delivery rider Dana. 'So, you suddenly tell us one day, the next day we cannot work. How are we going to pay all these instalments [sic], how are we going to pay all the expenses? It's not possible, physically not possible really.'" | CNA
Razor, Lyft, and Lime have emerged as the favorites to win two-year exclusive scooter contracts from the city of San Antonio. | Express-News
Bond has launched dockless ebike rentals in Helsinki. Because the company's pedal-assisted two-wheeler can reach speeds of 28mph (45kph), it is technically classified as a moped in many jurisdictions. | Helsinki Business Hub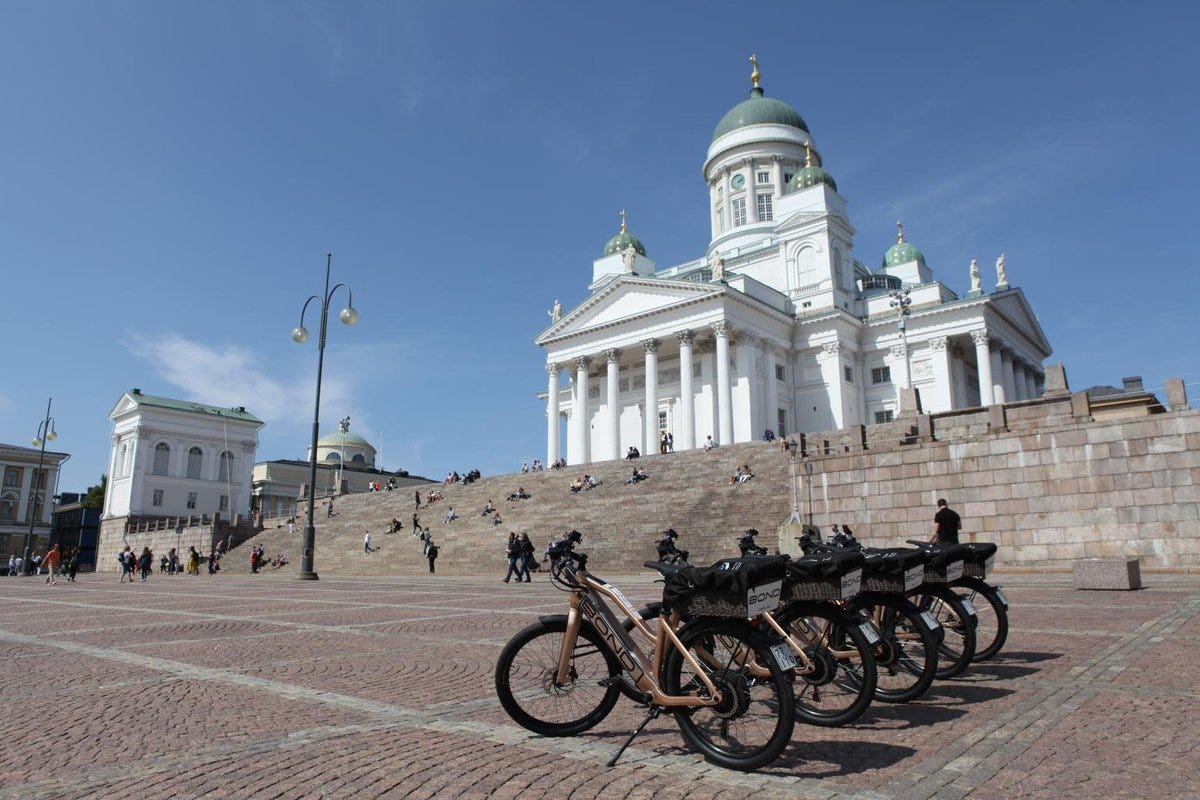 The city of Atlanta impounded about 3,000 improperly parked scooters over the summer without charging operators any fines. Transit officials have not provided a reason for why they did not collect the fees, which would have amounted to at least $200,000. | Journal Constitution
China's Bafang, one of the largest bike manufacturers focusing on electric, has gone public, raising $185 million through an IPO. | Bike Europe
Belgian DTC startup Cowboy's ebikes are now on sale in the U.K., Spain, and Italy. | Sifted
The rumors about a soon-to-open 12,000-scooter parking garage in Nuremberg, Germany, turned out to be fake news. | Electrive
Russian search and services company Yandex is piloting a six-wheeled sidewalk delivery robot as part of its self-driving efforts. | TechCrunch
Here's what NYC can learn from Hoboken about scooter sharing. | NYT
And here's what NYC can learn from Copenhagen about cycling. | NYT
Basically NYC has a lot to learn about how to use policy to get people out of cars. Case and point, for the second time in three months, Mayor Bill de Blasio has suggested there should be a law requiring cyclists to wear helmets. | Gothamist
… and he's not alone among U.S. leaders. The National Transportation Safety Board, a federal safety panel, has called for mandatory bike helmet laws in all 50 states. | Streetsblog
Trying a different approach, micromobility operator Shared is offering riders in Portland, Oregon, 20% off the total price of any ride if they snap a selfie of themselves wearing a helmet. | Braydon Batungbacal
Mobike's Italian operator, Idri BK, has acquired the Chinese bike-share company's Southern European division, which includes 1.5 million registered users across 18 cities, and rebranded it Movi. The new company plans to start offering ebikes and scooters. | Il Sole 24 Ore
Trump's tariffs on Chinese bike products entering the U.S. are set to be phased out as the trade war deescalates. | Bike Europe
MaaS Global, the Helsinki-based company behind the multimodal subscription app Whim, has raised $33 million in a new funding round led by BP Ventures, Mitsubishi Corporation, and Nordic Ninja. | VentureBeat
Bike ridership shot up 54% in Paris in a single year. | Ozy
---
…
…
…
…
…
…
… still here? Nice.
We have an earth-shattering surprise coming up.
This week we are going to reveal via email the date and location for the next Micromobility America conference. Keep an eye on your inbox for the big announcement.
If you're not a newsletter subscriber yet, sign up here for free to be among the first to find out when and where our biggest conference yet will be held.
#MMAmerica