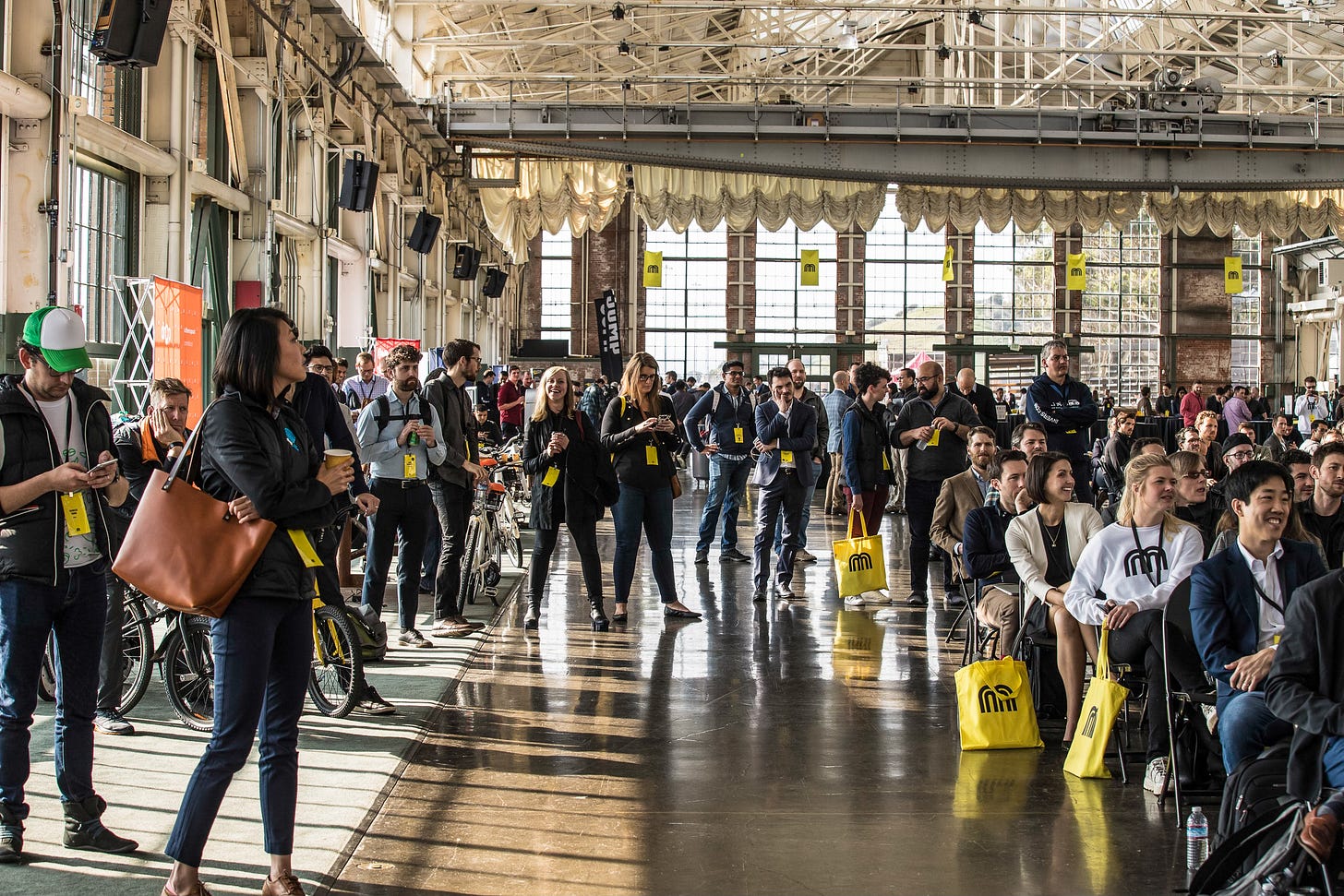 We're coming home.
Micromobility America is returning to the Craneway Pavilion in Richmond, CA, on April 22 & 23, 2020, for the second year. Tickets are on sale now.
The summit will bring together 1,500 entrepreneurs, investors, policymakers, and influencers who are driving a world-historic revolution in how we move around cities.
The two-day program will be filled with thought-provoking conversations with the most important founders, VCs, analysts, and regulators in urban mobility, as well as exhibitions, vehicle demos, networking opportunities, and more.
Most exciting of all, for the first time the conference is scaling to two days in an effort to keep up with the remarkable rate of innovation we are seeing in the industry. That means twice as many speakers, twice as many exhibitors, and twice as many attendees as ever before.
The objective of Micromobility America will be to provide this growing community with the platform it needs to accelerate the adoption of lightweight electric vehicles, unbundle the car, and enable happier, healthier, greener, more equitable cities to flourish. In that spirit, we cannot think of a better time and place to start this gathering than on Earth Day (April 22) at the former home of Ford's West Coast plant.
In the coming weeks we will announce the speakers, exhibitors, and agenda for Micromobility America. Learn more about the event here and check out participants from past conferences below:
Book your two-day, all-access Early Bird tickets now for $295 and save more than $650 off the General Admission price. Lock this deal down while it lasts.
---
Sponsorship Opportunities
The Micromobility Conference wouldn't be possible without the support of our sponsors. If your company is interested in partnering or exhibiting at Micromobility America, please contact us.
Learn more about the different partnership opportunities on our website.
---
Save More on Tickets
Triple M members receive a $50 ticket discount to Micromobility America and all other Micromobility events, including Micromobility Europe.
Join Triple M today for $100/year to unlock the Member Discount as well as other VIP advantages, including…
mMeetup, a monthly Zoom call in which Horace Dediu answers premium members' most pressing questions about the future of urban mobility live

A private Slack channel for industry players

Exclusive, limited-edition Triple M merch at events
Already a Triple M member? Check your inbox for your discount code.
---
Have questions or ideas for Micromobility America? Reach out.
Go #MMAmerica 🌎