Discover more from The Micromobility Newsletter
The world's largest newsletter for small vehicles. The future is urban. The future is electric. The future is micro.
Look to scooters—not cars—to electrify transport
This week, Lime takes a $300M+ loss, AOC backs parking reform, and Paris lets you park your scooter, but first…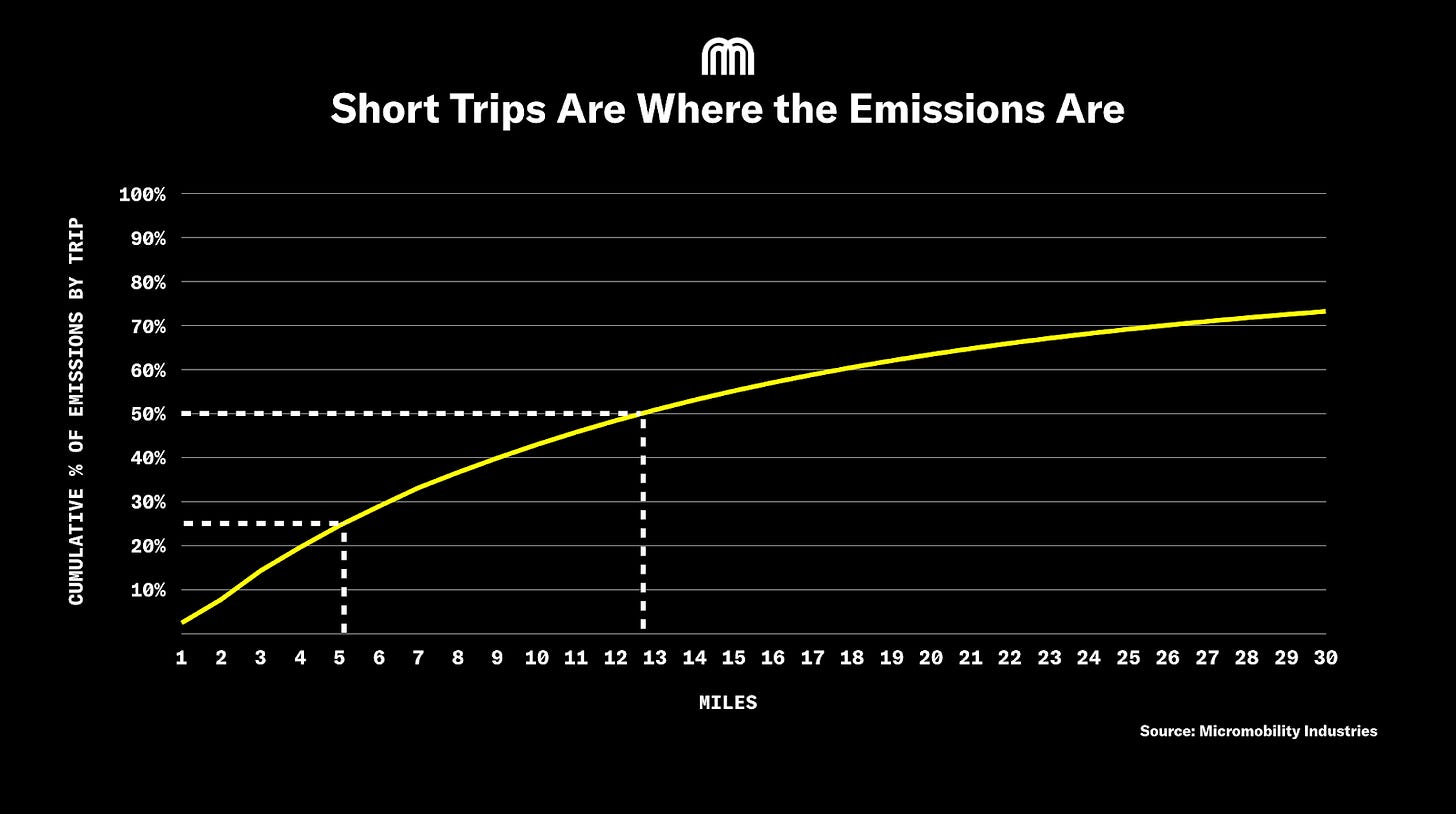 If You Care About Climate Change, You Should Care About Micromobility
By Oliver Bruce
The world is heating up. 
The best science shows that we have 11 years to cut annual emissions in half if we are to avoid catastrophic climate change. 
Road transport is the fastest growing area of emissions, and one of the hardest to combat. Transport underpins the entire economy, and as it goes, so goes most everything else. 
The automotive industry's answer to this problem has been to move production to electric cars. Tesla and Nissan have built an early lead, but they're being pursued rapidly by VW, Toyota, and the Chinese car manufacturers. These companies are experts in making and selling cars, so naturally their solution to the climate crisis is to make cars that are as clean as possible. Billions in subsidies have been provided to assist the transition. 
Here's the problem: Even the most optimistic projections from the International Energy Agency peg electric car adoption at 30% of total sales by 2030. Those same estimates figure the global car fleet will not be full electrified until at least 2050. 
In other words, not fast enough.
Why does this matter? Because the industry has been looking at this issue the wrong way
Cars are purchased to be used on trips. If you look at those trips, you'll see that most of them are short.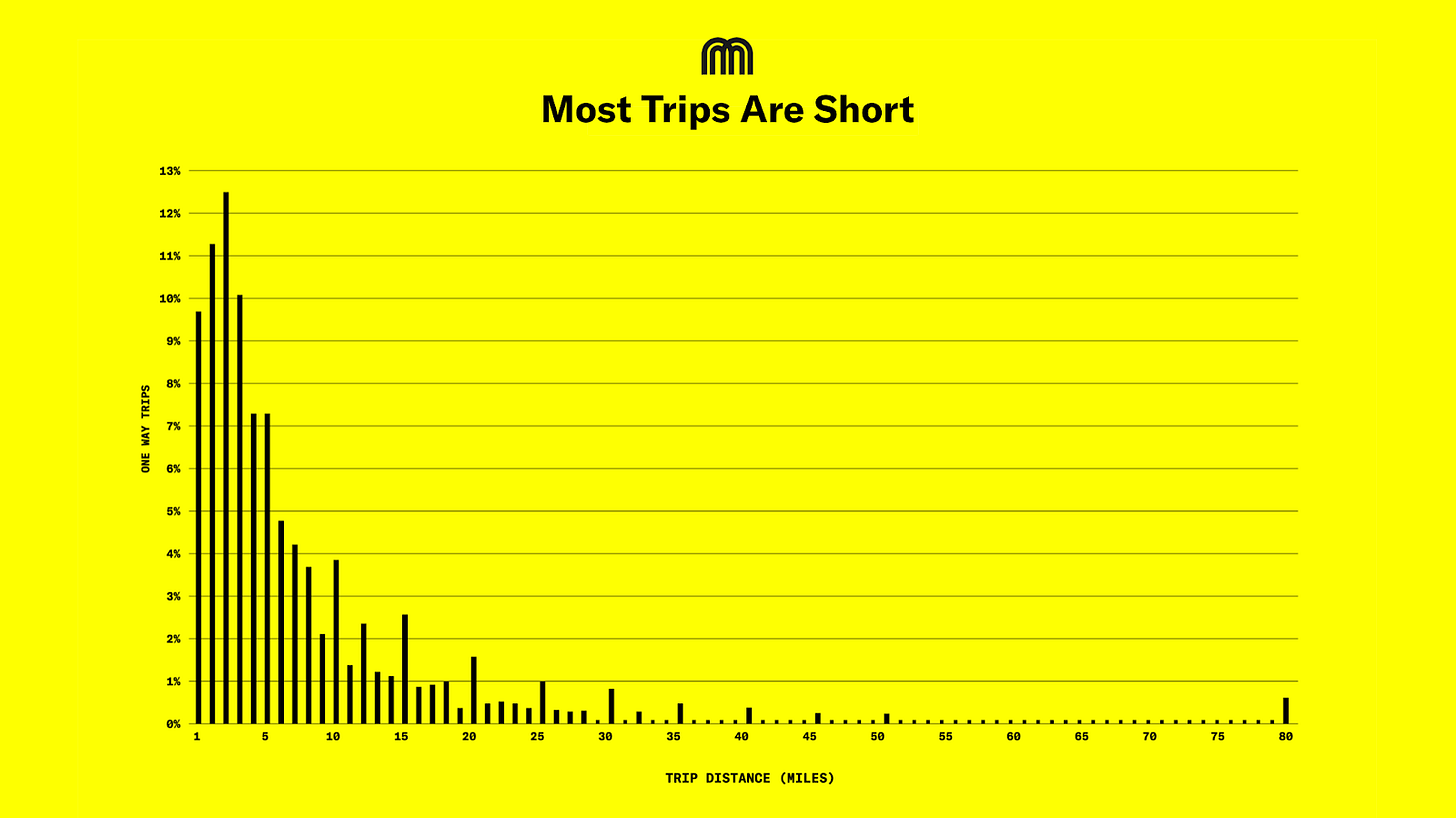 That's where the emissions are as well.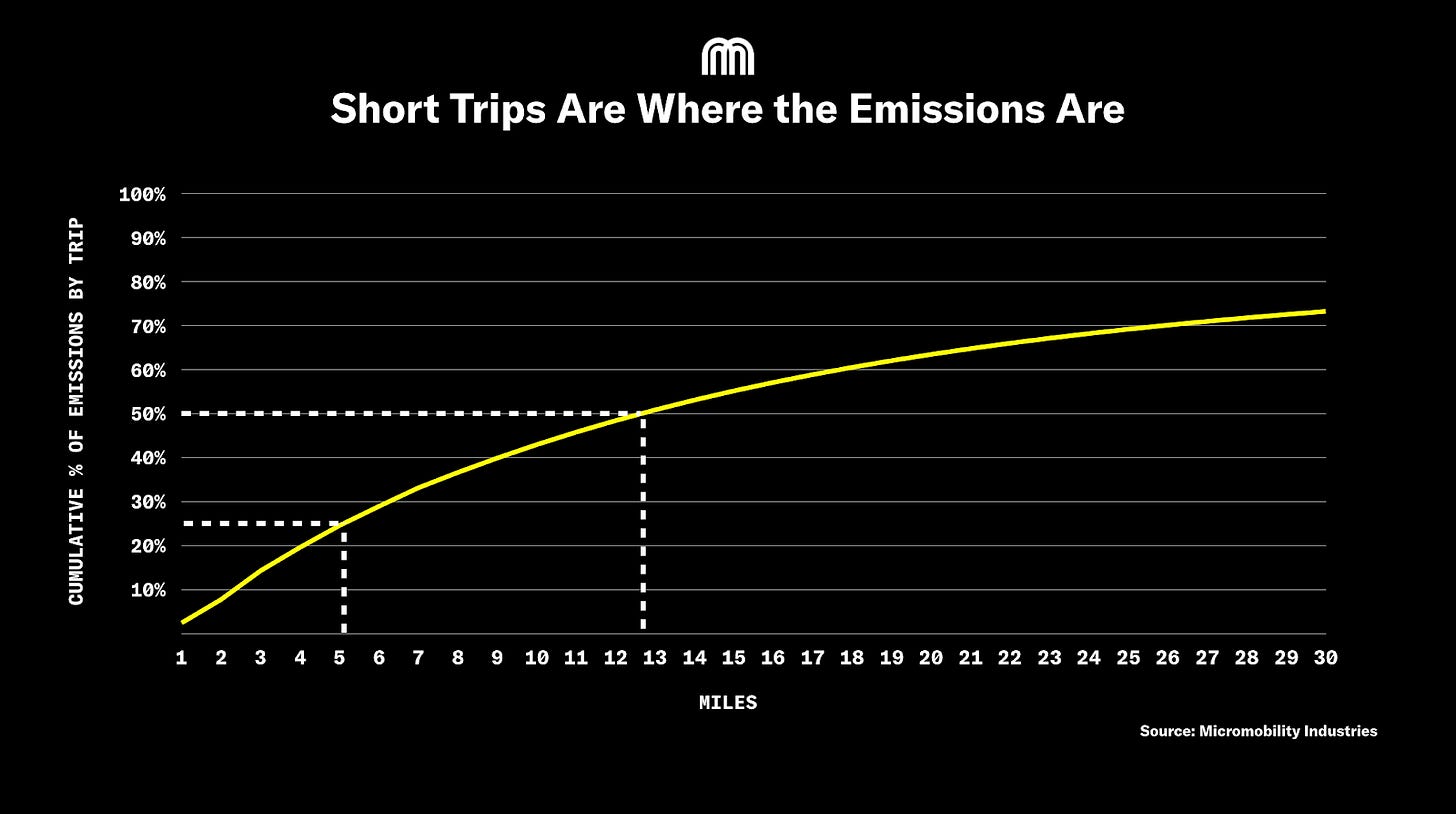 It's in this context that the emergence of small electric scooters and bikes—what we call micromobility modes—matters.
Electric bikes and scooters are perfectly suited to small trips, while only emitting 1-2% of what a car does. Put another way, 50 scooters rides produce the same amount of CO2 emissions as a single car trip.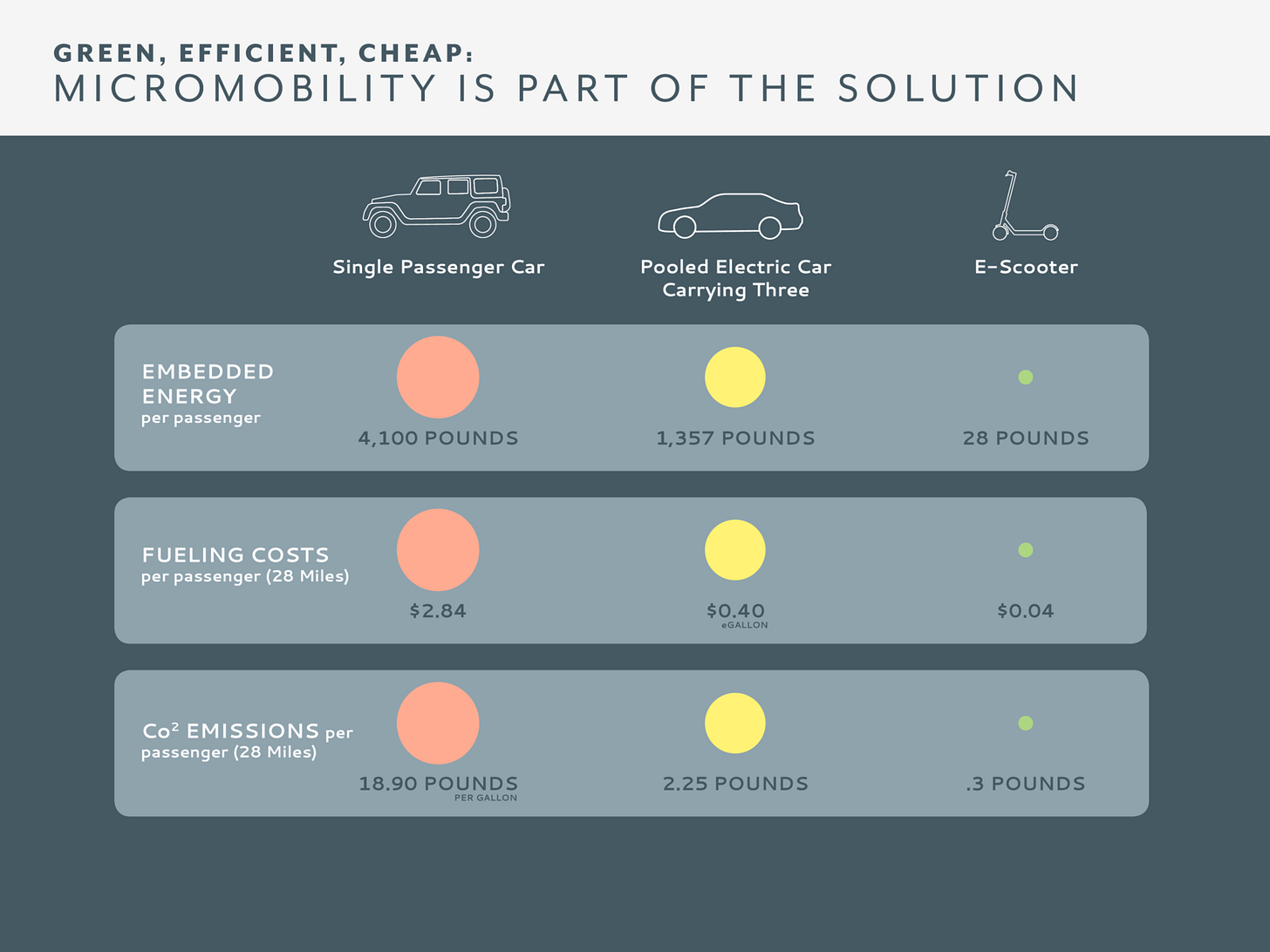 Source: Levi Tillemann, Wired
And yet when people ride lightweight electric vehicles (LEVs) they don't feel like they're being short changed. 
No, LEVs are not perfect—they're not as safe, not as weather-proof, and not as "prestigious" as cars. Not yet. But they beat cars on other important metrics: they're faster in congested urban areas, cheaper on a per-mile basis, and more fun overall. 
And it shows in the sales data.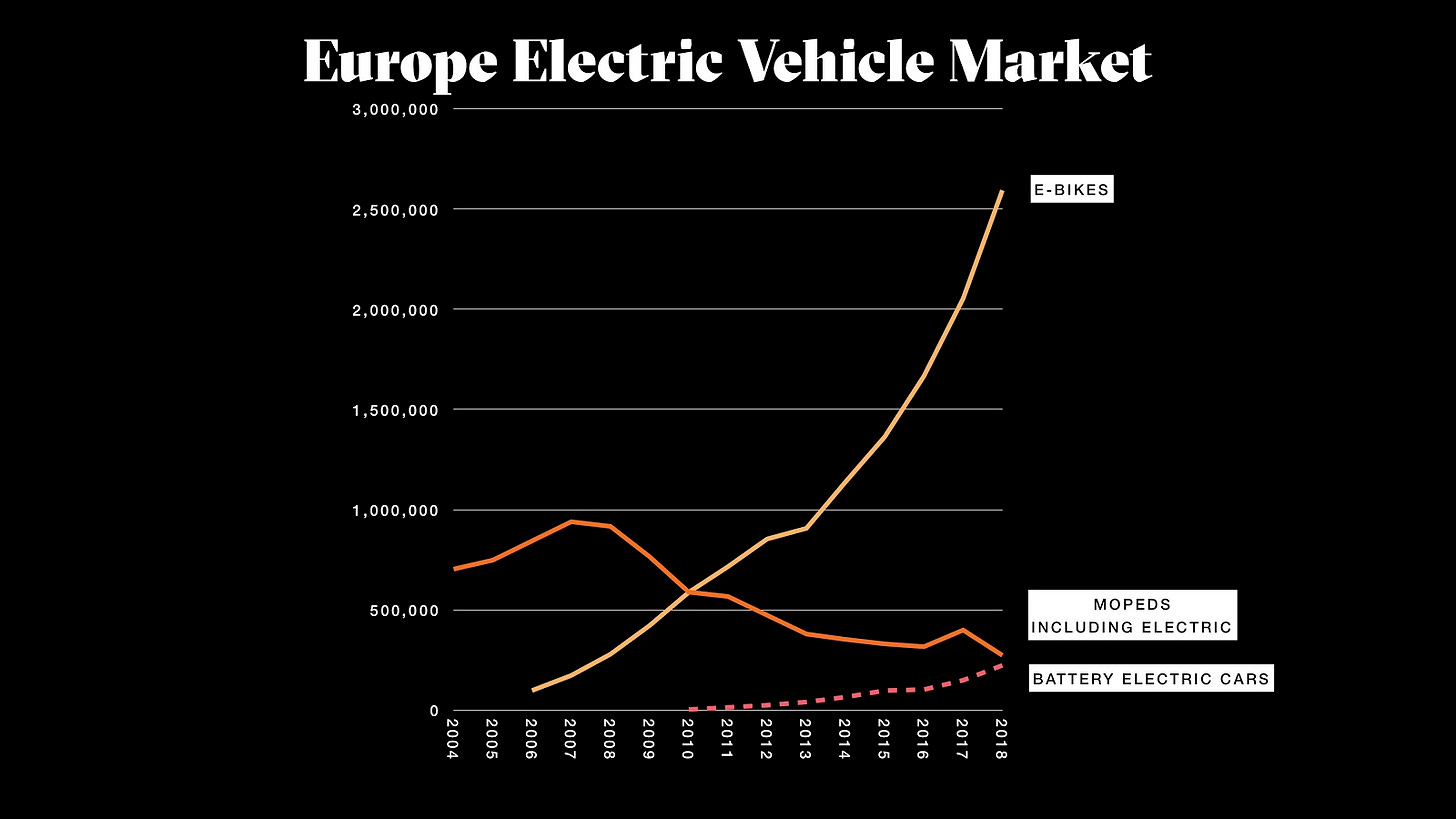 Electric bikes already outsell electric cars by a factor of 10:1 in Europe and 20:1 in China. What's more, micromobility has been able to achieve this scale with next to no government support, proper infrastructure, or tax incentives. 
Yet micromobility remains largely ignored by climate activists seeking to reduce emissions. 
If activists want a clear win with governments looking for cost-effective, climate-friendly transport options, they should be embracing the humble ebike and scooter as well as supporting infrastructure as aggressively as possible. 
But they haven't. Why that is is beyond me. But it should change. 
If you want to be in a place where LEVs are celebrated as drivers of climate solutions, tune into The Micromobility Podcast. 
---
What You Need to Know This Week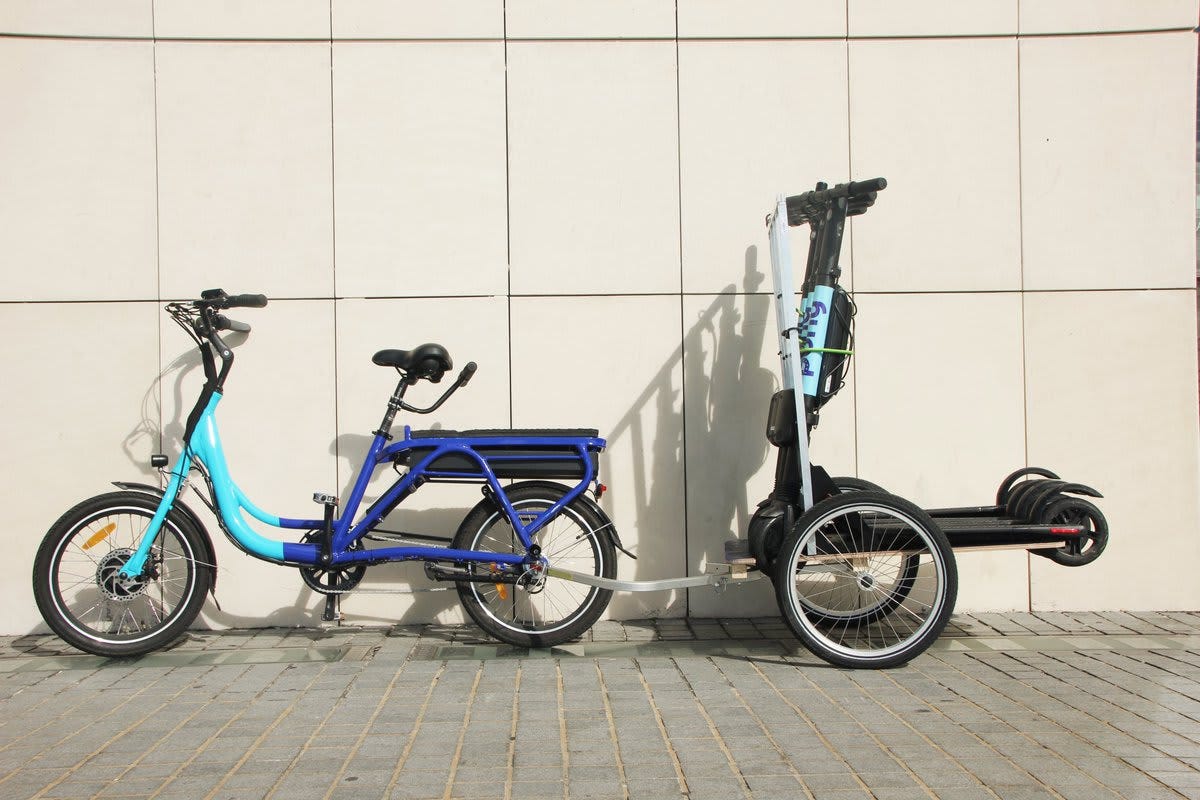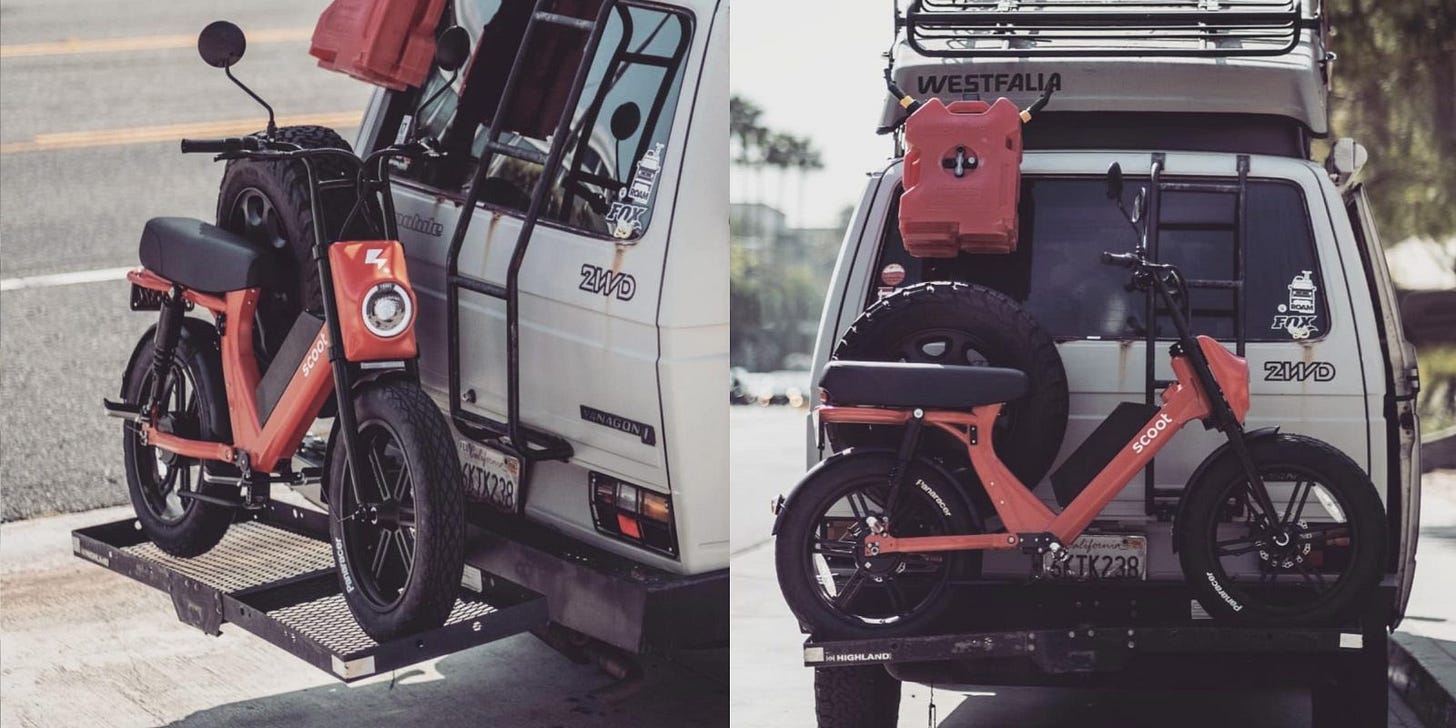 ---
Stay Connected
Want more up-to-the-minute news and announcements? Be sure to subscribe to the newsletter and check out our website.