This week, D.C. demands real-time trip data, scooter services grind to a halt, and a major micromobility OEM in China is back online, but first…
---
Welcome to the Micromobility Newsletter, a weekly missive about mobility, mostly mobility in cities by small vehicles like bikes and scooters. The reason you're reading this email is that you signed up on our website or came to one of our events.
If you're not a subscriber, and you want to keep getting the latest news and analysis from inside the micromobility movement delivered straight to in your inbox every Tuesday, sign up here for free. If you'd like to unsubscribe, just click that link.
Thank you for reading.
---
Introducing the Micromobility Growth Toolkit. Over the next few weeks Founder Shield will be releasing some indoor reading and unique resources with a focus on future expansion.
Though we may be hunkered down now, current conditions will not thwart the future of mobility. Founder Shield is taking the time to help you develop strategies for growth, understand the risk landscape, and prepare useful tools for when this situation subsides.
Download Part One of the Micromobility & Insurance Whitepaper
---
Blog: Urbe Semper Vincit
By Horace Dediu
I'm sure you've heard the phrase, "Whatever doesn't kill me makes me stronger." It's a comforting idea—that we can respond to stresses, threats, or sources of harm by becoming stronger. This is not only in contrast to the idea that we weaken with harm but also in opposition to the idea that we "bounce back" from harm. It says that we are not merely the same but we become better when harmed.
This idea was formalized in N. N. Taleb's now famous "Antifragility" property of systems. That is, an antifragile system, when stressed, is not only resilient (recovers from failure) or robust (resists failure) but, paradoxically, prospers after failure.
It may sound like a rare phenomenon but it's evident in each of us. Our bones, muscles, lungs, and heart, if stressed through exercise, not only repair themselves but get stronger in doing so. Moreover, through persistence and repetition our brains get stronger. This is how we learn, memorize, and develop skills. We call it education or exercise or homework or gaining immunity. This ability is in all of us. It is plain to see but it is not automatic. It is not easy to do. It is not the default path. We need to force it on ourselves. It hurts to stress muscle, to study and to repeat and repeat and repeat. It costs energy, time, and opportunity, but at the end, the bitter end, the result is strength.
So this idea of antifragility got me thinking about many successful systems, even companies. Those which are robust may endure one shock but may waver after more than one and will certainly succumb to many. Those which are resilient may recover a few times but weaken slightly each time. What is really extraordinary is a system or a company that gets stronger every time it's challenged. A company that suffers no challenges (i.e. a monopoly,) seems strong at first glance. It has nothing to fear. But when suddenly faced with a threat, especially an asymmetric one, it crumbles. A company that builds up its defenses to parry every challenge becomes rigid and can fail when faced with an agile opponent. History is filled with examples of "strong" companies failing.
The bigger they are, it seems, the bigger the fall.
However there are exceptions. And I'd like to draw attention to a major one. A construct we experience every day: the city. Cities are so big and pervasive that we take them for granted. We are living in a society of cities. They are our civilization. (The word civilization itself comes from the Latin "civitas," which refers to a city as a body of citizens). Urbanism is modernism.
---
Triple M: How Coronavirus Could Alter the Future of Cities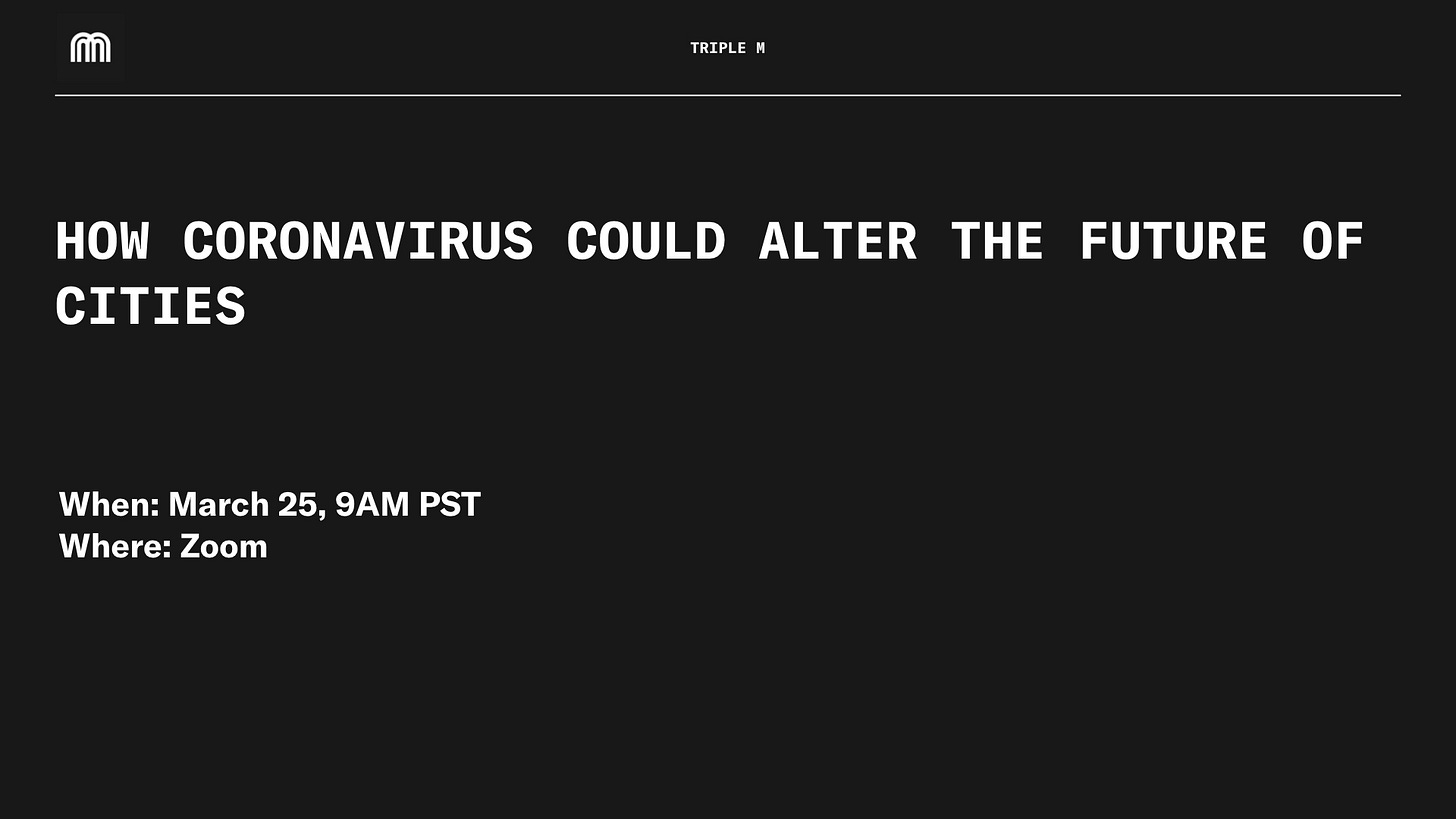 Stuck inside? We sympathize.
To help keep you informed and connected during this time of social distancing, we are making 30-day trials of Triple M free for everyone to try.
Being a member of Triple M comes with many benefits, including access to our regular video conference calls in which famed disruptive innovation analyst Horace Dediu and other top executives in the field present unique insights and answer live questions about the future of mobility and urbanism.
The next edition of the Triple M call, "How Coronavirus Could Alter the Future of Cities," is coming up on tomorrow, March 25 at 9AM PST, on Zoom.
In it, Horace will look at what happens to cities and transportation systems when people aren't leaving the house for weeks or months on end, and how micromobility is utilized during a pandemic.

Sign up for your trial of Triple M below to receive the participant info.
---
Podcast: Getting to a Better Place with Mobility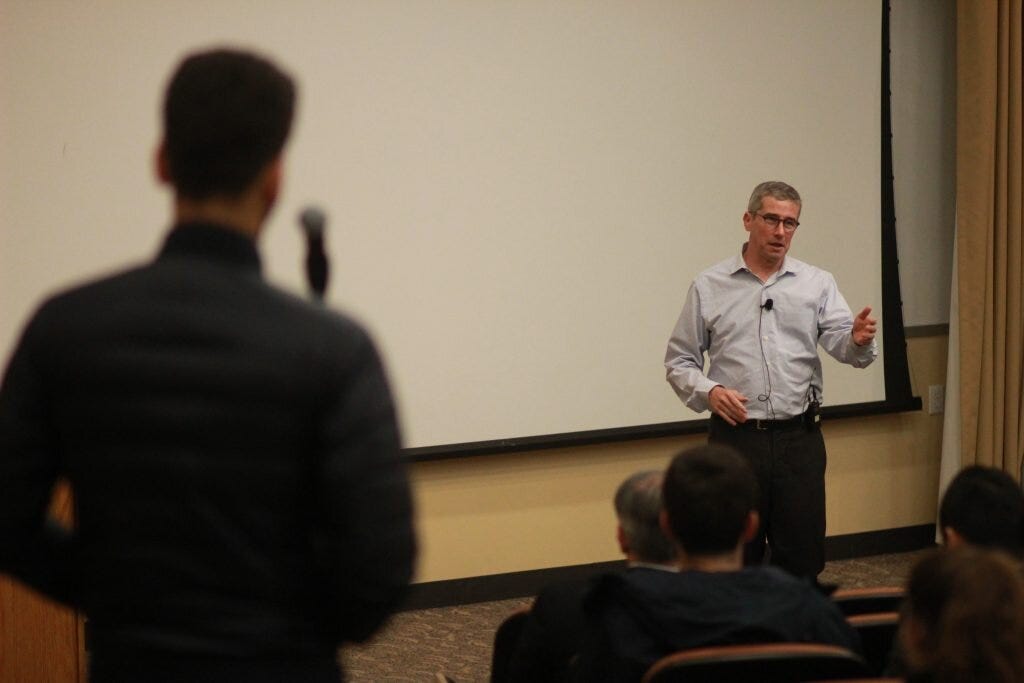 Electric cars → autonomous cars → micromobility
On a new episode of the podcast, veteran transportation VC Michael Granoff of Maniv Mobility recounts the mental transformation that he and a lot of other smart people went through in the last decade.
---
#MMAmerica
Don't forget, for one more week, tickets to Micromobility America are $300 off the General Admission price.
Book now, save a bunch, then join us in the Bay Area on July 16-17 for two unmissable days of talks, networking, test rides, and more.
When this deal is gone, it's gone.
---
What You Need to Know This Week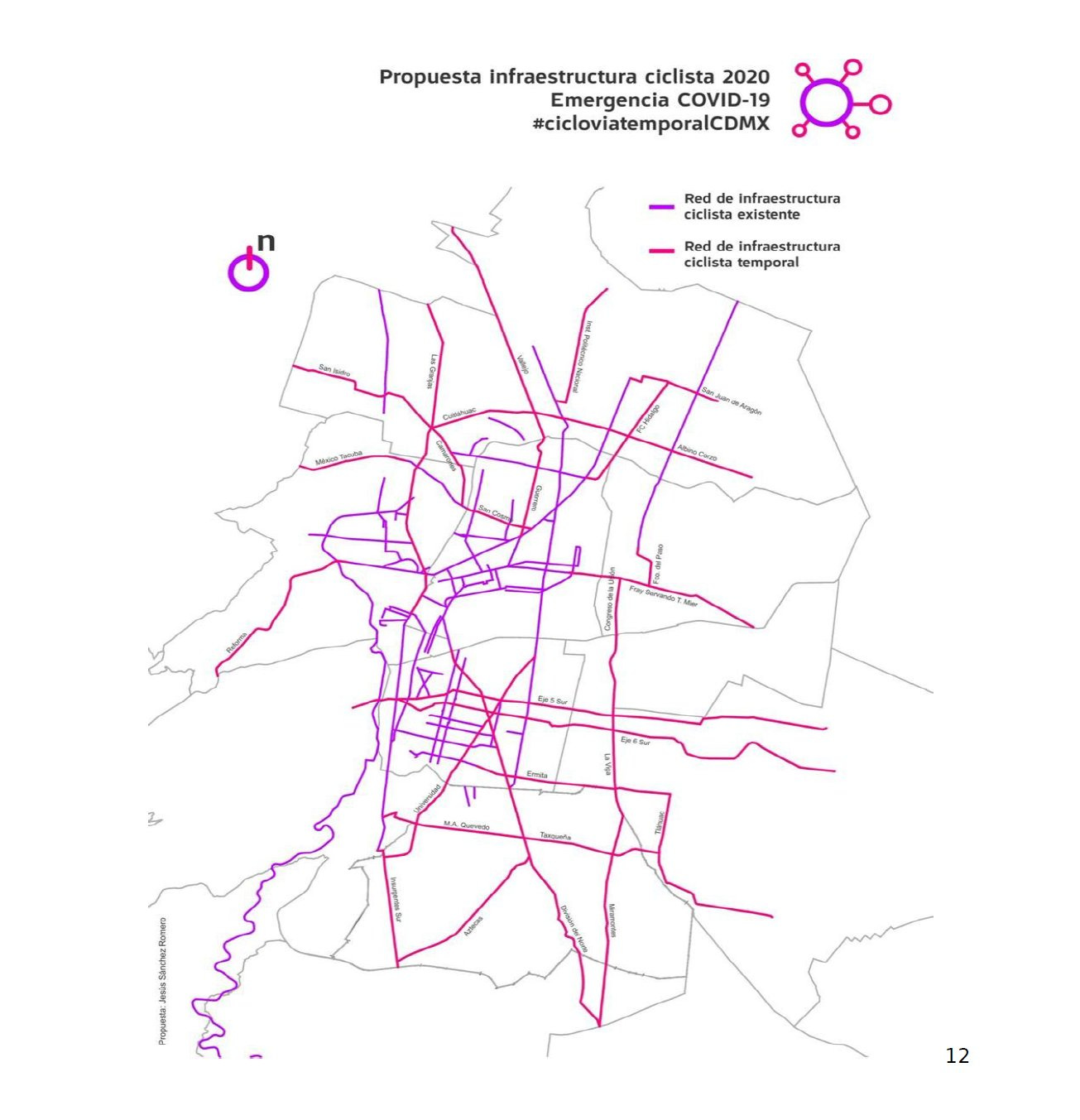 ---
Jobs to Be Done
Welcome to our jobs board. Every week we post new career openings in hopes of connecting our smart and talented readers with exciting professional opportunities in the world of new mobility.
Find out who's hiring below and sign up for the newsletter to see more listings every week.
If your company is looking to make its next hire, and you want to reach thousands of qualified candidates who live and breathe mobility, you should list with us.

Hit reply to find out more about being listed. No charge.
---
Stay Connected
Want more up-to-the-minute news and announcements? Be sure to subscribe to the newsletter and check out our website.