Just how big is Africa's moto-taxi market?
This week, Uber takes L.A. to court over data, Singapore threatens scooter scofflaws with jail, and car ownership is trending down in Seattle, but first…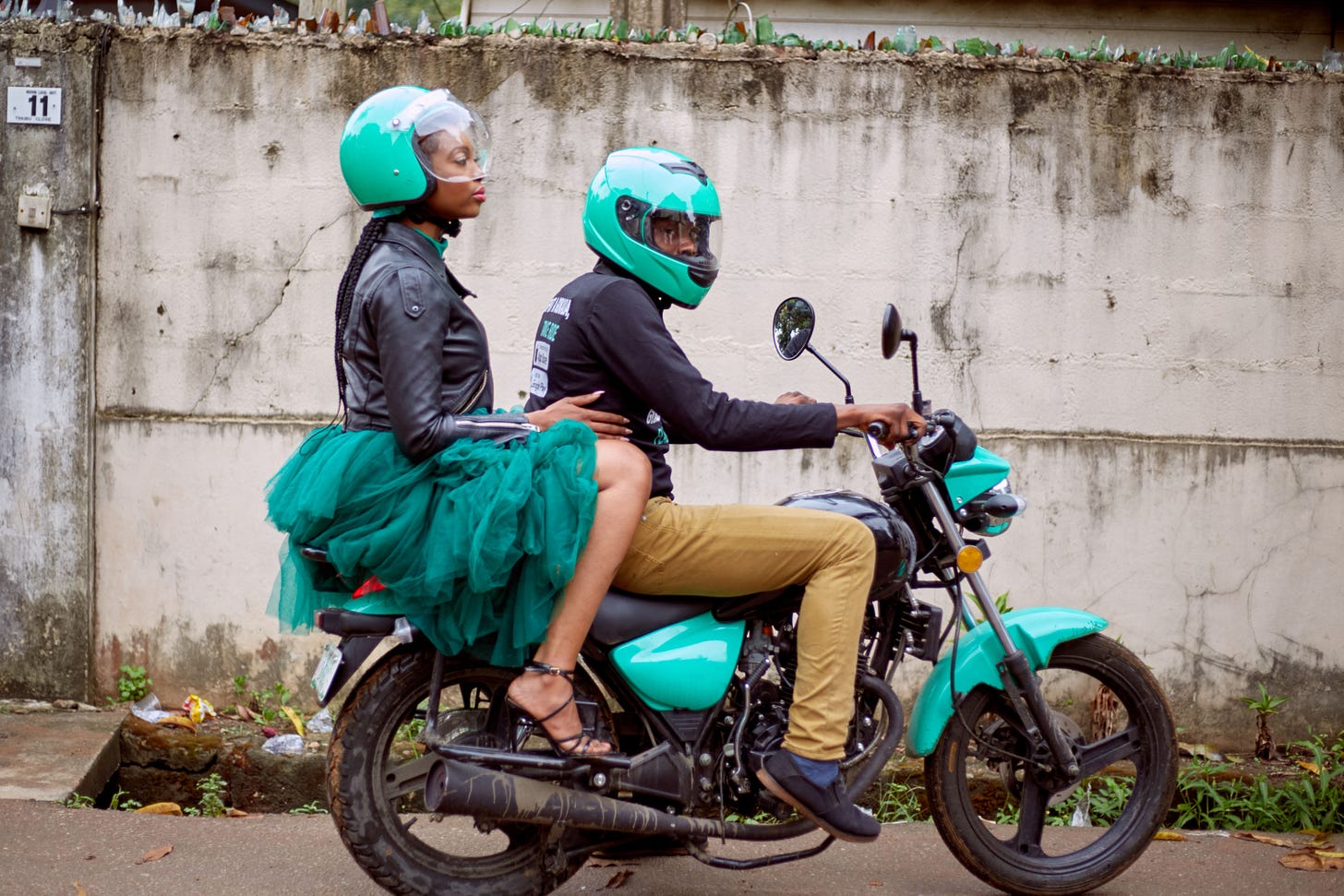 We're Pivoting to Video
Just kidding. It's not 2015.
But we are going to start releasing videos of the presentations, talks, and panels from Micromobility Europe, our largest conference yet, in the coming week. Stay tuned to see inspiring speeches by execs and experts from Segway-Ninebot, Uber, SAE, and more. (Did we mention Horace Dediu?)
Be the first to get the alert when new videos are published by following us on Twitter, LinkedIn, and YouTube.
---
Oliver Gets Owned
In a new podcast interview, David Hyman, the former CEO of Beats by Dre and current head of Unagi, explains to Oliver Bruce why he is all in on the premium ownership model of micromobility. (Spoiler: His research suggests owned will control 35% of the total scooter market in the near future.)
Listen here.
---
What You Need to Know This Week
Leading off, motorcycle-hailing apps are taking sub-Saharan Africa by storm, with startups such as Max.ng, Gokada, and SafeBoda—as well as new-to-the-scene electric options like SafiRide in Rwanda—all competing to build a continent-wide user network. There is little consensus yet on how big the opportunity is. Experts project the market could be worth anywhere from $9 billion to $80 billion. | BBC
Uber and the L.A. Department of Transportation are heading to court over MDS. Uber has been refusing to comply with the city's mobility data-sharing protocol over concerns about user privacy for some time. In response, last week the LADOT suspended its permit to operate scooters for 10 days. Now Uber has filed a lawsuit and temporary restraining order against the city agency. | CityLab
Related: Privacy groups are lining up behind Uber as the legal showdown over MDS looms. | Mashable
IoT provider Particle, whose clients include micromobility operators like Shared, raised $40 million through a Series C round led by Qualcomm Ventures and Energy Impact Partners. | Forbes
Shared scheme Ojo is going after both the delivery and consumer segments with its new sit-down electric scooter, which can carry a max load of 300 pounds (136 kg) and travel 50 miles (80 km) on two swappable batteries. The company plans to deploy a total of 2,500 vehicles across its three markets, Memphis, Dallas, and Austin, by the end of January. | Yahoo Finance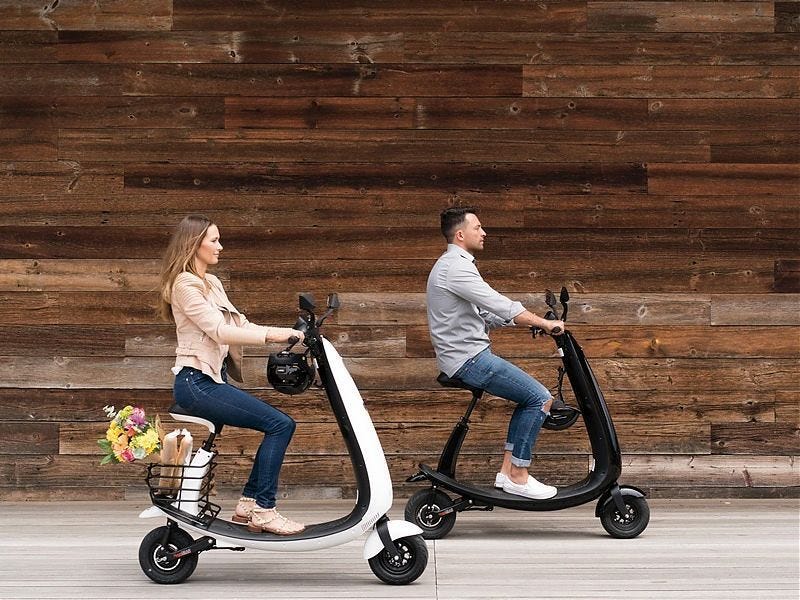 Police in Turin are handing out fines in excess of €1,000 to people riding scooters on public streets. Critics argue that Italy's national Highway Code, which has not been modernized in almost 30 years, needs to be updated with a micromobility guideline to prevent individual municipalities from implementing such harsh penalties. | The Local
Related: It could be worse. Scooter users who break Singapore's new rule against riding on the sidewalk could face up to two months in jail. | Bloomberg
The Uber app in Cincinnati has a new feature that alerts cyclists and scooter riders when they are near a bike lane. | Soapbox
Painted bike lanes may not make streets safer but there is good evidence that asphalt murals do. Bloomberg Philanthropies announced it will fund the creation of 10 street murals in 10 U.S. cities. Janette Sadik-Khan, transportation principal for Bloomberg Associates and former NYDOT commissioner, says: "It's not just about art—it's about creating safe spaces for people for pennies on the dollar. This is fast, easy, inexpensive, and transformative." | Curbed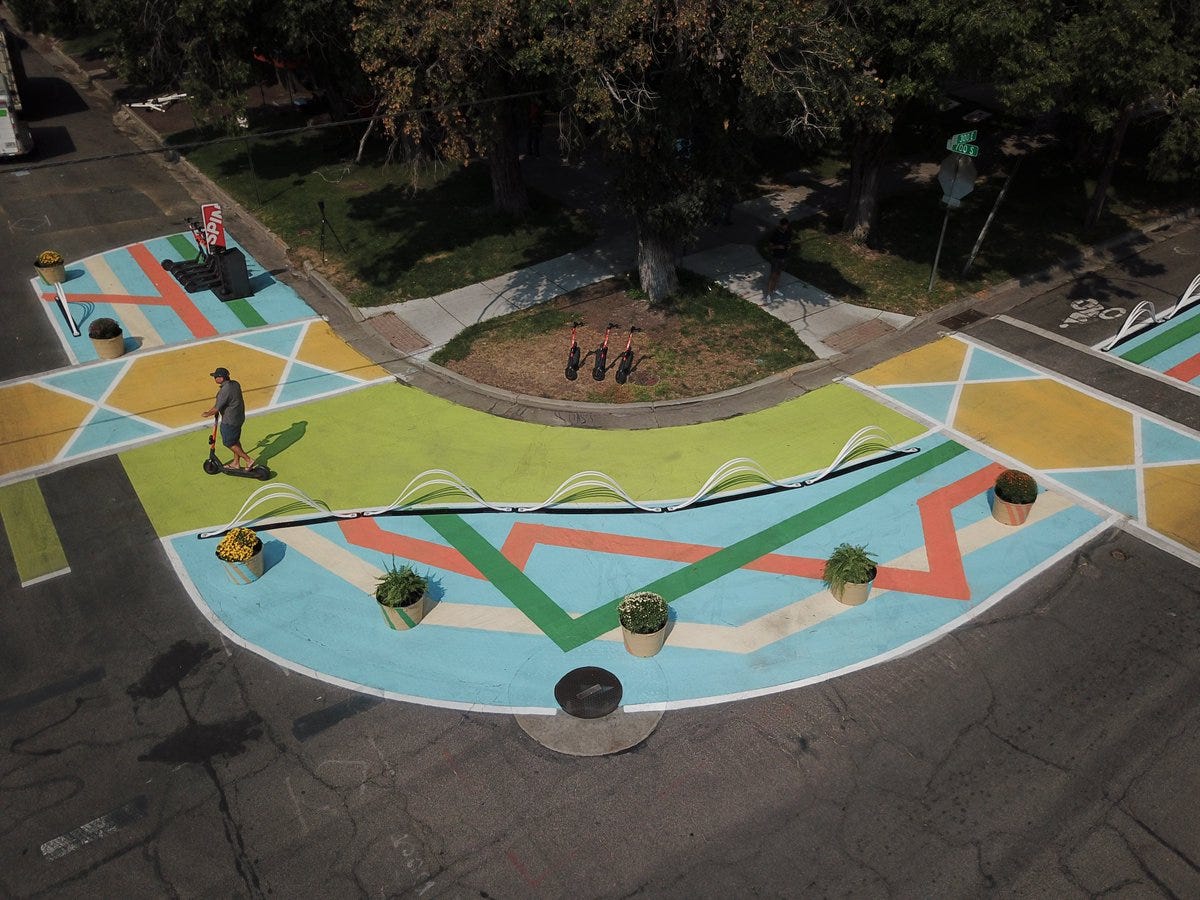 Uber CEO Darya Khosrowshahi said in a new interview that two- and three-wheel vehicles are the company's fastest-growing segments, which is part of the reason why he views the Indian market as so important. | Bloomberg
Related: India's electric moped revolution is well underway but battery prices will need to come down further for people to make the switch from gas-powered two-wheelers. "The average retail price for two-wheelers in India is $1,000. Currently, the battery pack cost is around $180/kWh for small-volume markets, resulting in electric two-wheelers needing close to $500 for just the battery pack." | Quartz
Seattle saw the largest decline in car ownership of any major U.S. city in the last eight years, down 3% to 81% of households. | Times
Check out this interactive world map that shows where many of the major shared micromobility companies operate (s/o to Alejandra Rios). | MapHunt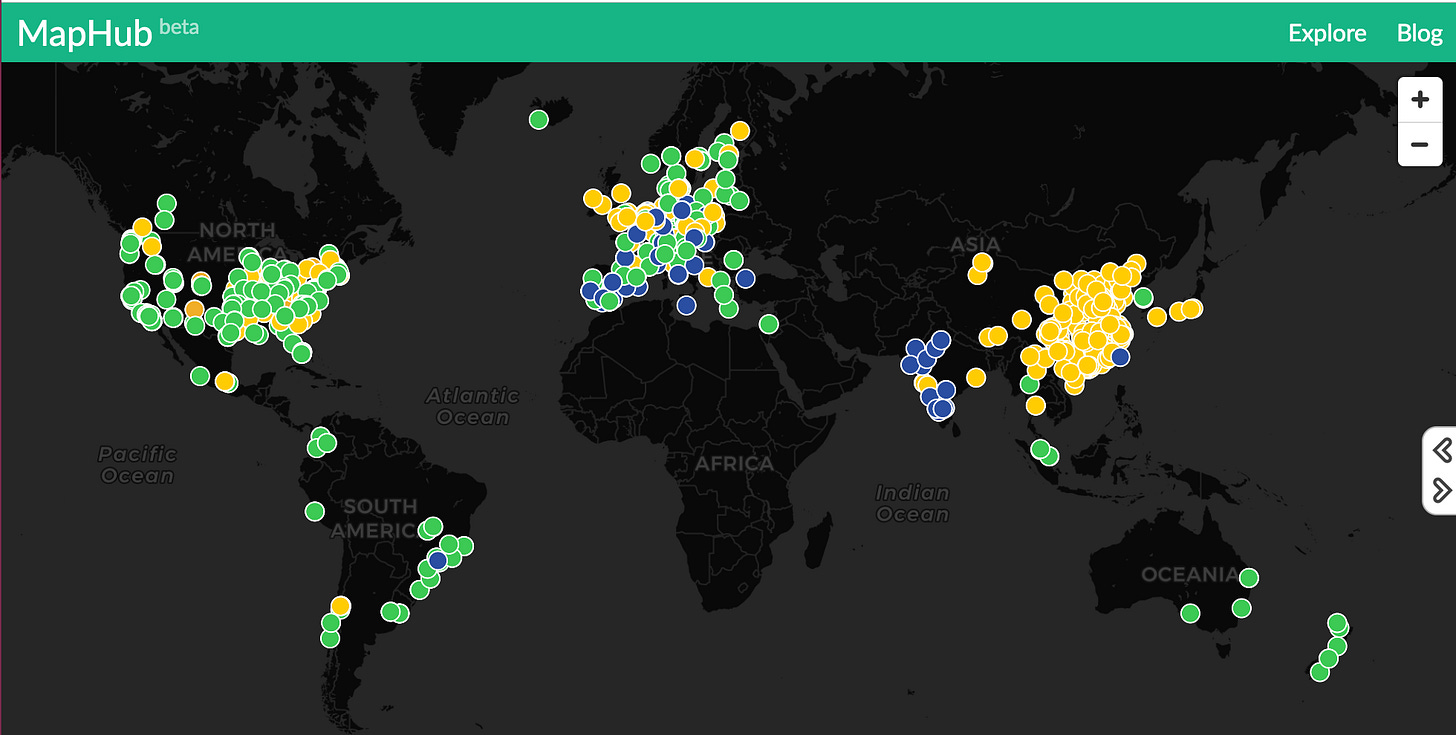 Revel has arrived in Austin, its third market, with 1,000 shared emopeds. By our math, the city now has about one dockless electric vehicle for every 50 residents. | Curbed

Oliver interviewed Revel CEO Frank Reig last month on the podcast about the company's recent funding round and the potential market for moped sharing in America.
Lyft reported a net loss of $463.5 million on almost a billion dollars in revenue in Q3 of 2019. Last month Lyft CEO and cofounder Logan Green said he expects the company to be profitable by the end of 2021, a year earlier than previously anticipated. | The Verge
Software platform Joyride is positioning itself as the "Shopify for micromobility" with a new package that allows fleets of any size to be up and running within 24 hours, starting at $99 a month. Additionally, the company announced an integration with Populus that enables their partners to provide secure data to cities worldwide. | Joyride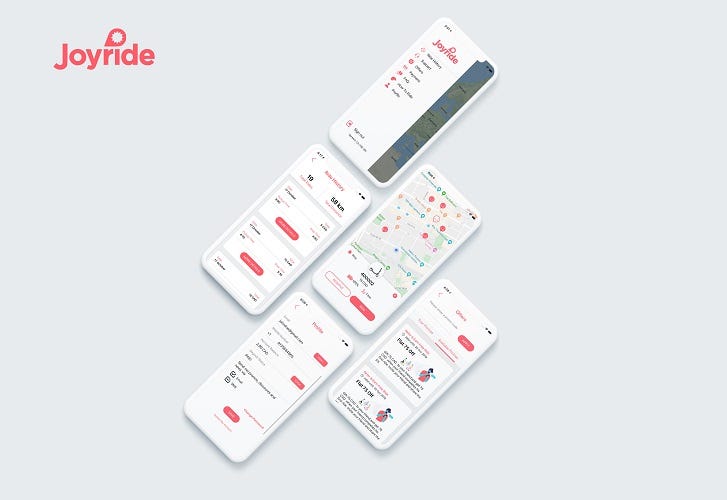 Advanced algorithms and rider incentives can help cities improve bike-share rebalancing. | Scientific American
In a new op-ed, Lime's chief U.S. lobbyist, Adam Kovacevich, highlights a painful discrepancy in how scooters and cars are taxed: "Portland taxes scooters $0.22 per mile to support infrastructure, but only charges private cars the equivalent of $0.02 per mile through gas taxes." | Streetsblog
Lyft rolled out a $20-a-month membership program called Lyft Pink, which includes 15% off of all car rides, three free bike or scooter rides a month, priority airport pickups, and relaxed cancellation fees. Lyft Pink replaces the company's previous subscription offer, All-Access. | Forbes
Kymco, Taiwan's main manufacturer of conventional mopeds, has launched its first electric model in a direct challenge to Gogoro. Owners of Gogoro emopeds get access to the company's more than 1,500 charging stations in Taiwan, often found at supermarkets and gas stations, where they can swap dead batteries for fresh ones. Now Kymco is elbowing in with its own charging network. "At the beginning of September, Taiwan oil major CPC Corporation announced the results of bids to set up electric scooter charging stands at its network of gas stations. Kymco won 146 of the total 194 locations on offer, while Gogoro secured just 48." | Nikkei Asian Review
Correction: An earlier version of this post included a link to an out-of-date article about Goobee in Hong Kong.
---
Coming Attractions
CoMotion LA | November 14 - 15 | Los Angeles
Reminder for West Coasters (or anyone who lives near an airport and cares about the future of transportation): CoMotion LA, an urban mobility conference that brings together the innovation, policy, and business sectors, is happening in Los Angeles on November 14 - 15.
Global mayors, leading technologists, public transport operators, and venture capitalists—representing both startups and established players—will attend for two days of immersive and inspirational talks, demos, test drives, and exhibitions. This year's top themes include autonomy, MaaS, inclusive transportation, urban aerial mobility, and—wait for it—micromobility.
Subscribers of the Micromobility Newsletter can use the code MM20 for a 20% discount. Register today. 
(P.S. A few of us from Team MM will be attending CoMotion LA in person next week. Get at us if you would like to say hello -> info@micromobility.io)
---
Stay Connected
Want more up-to-the-minute news and announcements? Be sure to subscribe to the newsletter and check out our website.