This week, Bird pecks Circ, Grow shrinks, and Bounce's funding leaps, but first…
Welcome to the Micromobility Newsletter, a weekly missive about mobility, mostly mobility in cities by lightweight utility vehicles, such as bikes and scooters. The reason you're reading this email is that you signed up on our website or came to one of our events. If you'd like to unsubscribe, just click that link.
Okay, with that out of the way, let's roll.
Finally, Affordable Micromobility Insurance
It is time for micromobility insurance to keep pace with the industry by offering more economical coverage.
Christensen Group understands that historically expensive insurance premiums have been barriers to market entry and profitability for many shared mobility operators. Their uniquely positioned Sharing Economy Practice has introduced a specialized Micromobility Insurance program that can circumvent these headaches and improve the bottom line for micromobility players of all sizes.
---
#MMAmerica
Did you know we have a conference coming up in the Bay Area on April 22-23? It's called Micromobility America and it is going to be the world's largest event for and by users of micromobility.
Want to get involved? You're in luck. We're running a special on tickets until 11:59PM PST on Friday, January 31. Right now, passes are nearly half off the General Admission price, which will go into effect near event time.
P.S. Work in government, education, or nonprofit? We offer a reduced ticket rate for all three. Hit reply for the details, or email info@micromobility.io directly.
---
Podcast
For the latest episode of the podcast, Oliver Bruce sat down with Lime president Joe Kraus to discuss the hard part of building the largest scooter company in the world: keeping it going.
From unit economics and lifecycle emissions, to blitz-scaling and permit systems, this conversation covers all the existential questions facing shared mobility in just 45 minutes.
Click here to listen to the episode—and see Kraus's holiday suit, which can best be described as Christmas on Tatooine.
---
What You Need to Know This Week
Leading off, New York is on track to finally legalize electric scooters and throttle ebikes, possibly as soon as this week. After vetoing a similar bill last month over safety concerns, Governor Andrew Cuomo is apparently prepared to sign the legislation, which includes a new clause that requires riders of Class 3 ebikes to wear helmets. Key facts to know:

If passed, the law would open the gates for scooter startups to operate anywhere in New York State that local authorities permit them, with one big exception: On-demand rentals will remain illegal in Manhattan for the time being.

The proposed legislation caps scooter speeds at 15 mph, bans riders under the age of 16, and requires riders under the age of 18 to wear helmets.

The bill splits ebikes into three categories—Class 1 pedal-assist models with a top speed of 20 mph, Class 2 throttle models with a top speed of 20 mph, and Class 3 throttle bikes with a top speed of 25 mph. Helmets would be required for Class 3 models.

The legislation does not address ebikes that can go faster than 25 mph.
A U.S. senator from Utah posted a video of himself riding a scooter to the Senate impeachment trial. | Deseret News
Scooter unicorn Bird has announced it will acquire Berlin-based Circ and that it has added a $75 million extension to its Series D, bringing the total size of its round to $350 million. For Bird, this deal helps open up Europe, where it has historically trailed Lime. Circ is active in 14 European countries and profitable in a third of them, but has struggled to meaningfully differentiate its business or match its rivals' funding. While the terms of the acquisition are not yet known, Bird will gain much of Circ's operations and 300 employees. | The Verge
Latin American micromobility startup Grow has laid off 25% of its workforce, or around 625 employees, and retreated from eight markets in Brazil. This may be part of pattern, as Lime exited several markets in South America earlier this month. (Trivia: Lukasz Gadowski, co-founder of Circ, is also invested in Grow.) | The Information
Lebron James is partnering with Lyft to give thousands of teenagers from low-income families in New York, Chicago, and the Bay Area free bike-share memberships for a year. | FastCo
Paris's Mayor Anne Hidalgo, who is up for reelection this March, unveiled a proposal to make the city center "100 percent bicycle." | Citylab
Washington, D.C. will build a hundred off-sidewalk parking corrals for bikes and scooters. | DCist
… in a bit of bad timing for Skip, one of its former contractors has come forward claiming that at least two of the company's scooters burst into flames last October. The news recalls a similar incident from last summer when a Skip device caught fire on a sidewalk in Washington, D.C. | SF Examiner
Indian two-wheeler rental startup Bounce has raised $105 million as part of a Series D round led by B Capital and Accel Partners. | TechCrunch
Lime continues to turn up pressure on Scooter Map, an app that allows users to unlock scooters from multiple companies, for making use of its data. The micromobility provider is threatening to sue the third-party aggregator and is asking the Apple Store to remove its app. | CNET
The former sponsor of San Antonio's bike-share program has paid its outstanding bill, which will provide enough funding to keep the embattled system running through April. | Rivard Report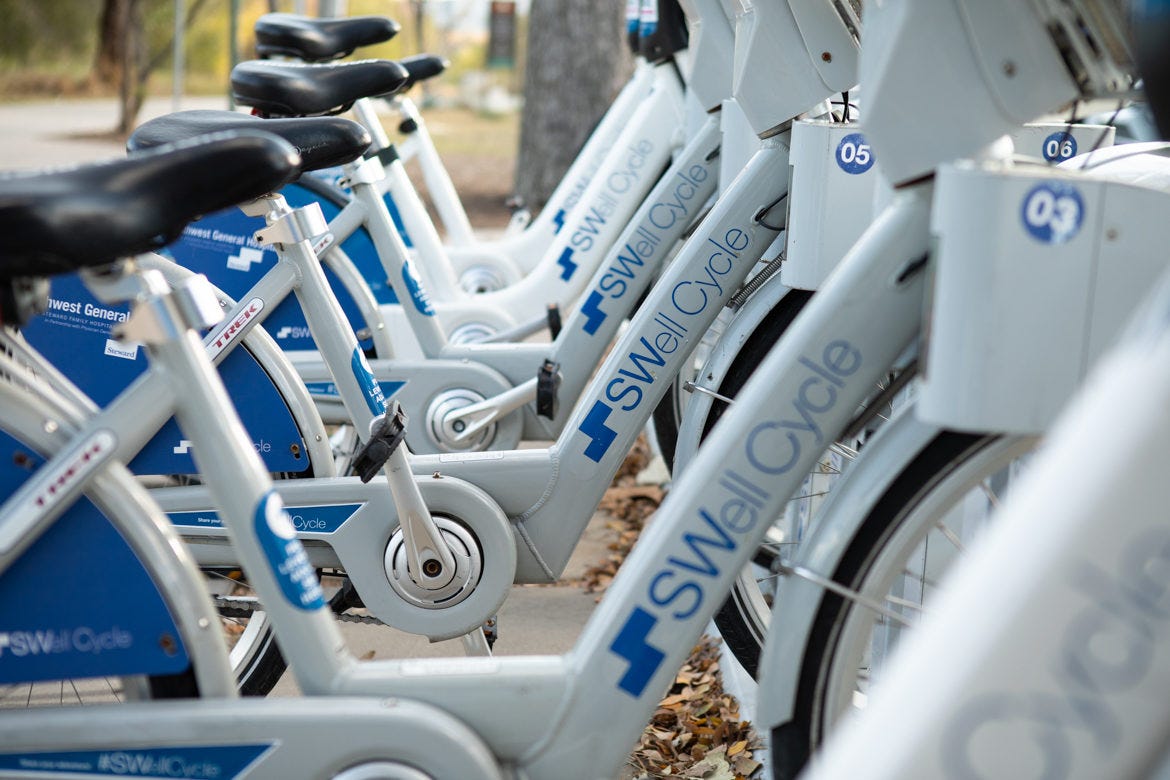 Barcelona announced a $620 million plan to cut greenhouse gas emissions in half by the end of the decade, mostly by restricting traffic in the city. The plan includes banning polluting vehicles in certain areas and dropping the speed limit to 19 mph on more than half of all streets. | El Pais
Bird's director of sustainability says that somewhere between a third and half of scooter trips are replacing car trips. | Smart Cities Dive
Denver has pledged to build 125 miles of bike lanes by 2023. | Denver Post
Cambodia, by far the biggest exporter of bikes to Europe, may lose its trade benefits with many countries on the continent next month when the EU reviews its human rights record. | Bike Europe
A large stretch of San Francisco's Market Street, one of the city's main thoroughfares, will officially go car-free tomorrow. | Streetsblog
Revenue for Capital Bikeshare, the station-based bike-share system for Washington, D.C., fell 10% last year. While the number of trips taken by annual members stayed the same, nonmembers took half as many trips overall. The timing suggests that the addition of dockless bikes and scooters may have peeled away some of Capital Bikeshare's more casual users… | WTOP
… which may be why Lyft, which runs Capital Bikeshare, plans to introduce semi-dockless ebikes to the system early this year. | WTOP
Security researchers at the University of Texas at San Antonio have found that shared scooters could be vulnerable to a variety of cyberattacks. | Security
Bird, Dott, Voi, and Lime are working together in Lyon to support the French city's scooter parking patrol service. | Le Progres
Uber is gearing up to launch ebikes in Australia for the first time, but no scooters as of yet. | Business Insider
---
Thank You to Our Partners
On April 22-23, Micromobility America will bring together some of the most innovative companies in tech and mobility, from leading-edge startups to major incumbents, in Richmond, CA, for two days of expos, demos, and meetings. Here is who you can expect to be there.
Does your company want to exhibit in front of over a thousand mobility entrepreneurs, policymakers, and enthusiasts? Contact us.
---
Stay Connected
Want more up-to-the-minute news and announcements? Be sure to subscribe to the newsletter and check out our website.